Ever since the beginning of my journey, I have had many memorable opportunities that I never dreamed I would have. One of which is going on barrel picks with my whisky mentor (everyone needs one) Chris Zaborowski from Westport Whiskey and Wine. Whenever he extends an invite to be part of the selection team I jump on it, and not just for the free whisky but for the key learning experience and new discoveries I make at each and every selection.
In July, Chris gave me a call to see if I wanted to do a barrel pick at Starlight Distillery, part of Huber's Orchard, Winery and Vineyards. My experiences at Huber's have always been field trips with the kids to pick fruit, a stop by the petting zoo and indulging in homemade baked goods and ice cream. A few months earlier we had the honor of hosting Starlight Distillery for a craft distillery showcase, which is where I discovered how far they had come from making wine and brandy to other distilled spirits, including bourbon. This field trip was going to be unlike previous ones to Huber's.
Sixth generation family member and co-owner, Ted Huber, and Head Distiller, Jason Heiligenberg, had pulled several different barrels for us to sample. For such a young distillery, it was impressive to see the level of experimentation taking place. They are testing many different variables, including types of grains (4 different types of corn), 3 and 4 grain mash bills, aging techniques, types of barrels and different char levels. Each experiment produced both expected and unexpected results. As we sampled each barrel, we could detect the influence of the different elements.
This is truly a farm to bottle experience. Part of their core mission has been to produce nothing but a quality product and to control all aspects from beginning to end. This includes growing and harvesting the ingredients, milling, distilling, aging, blending and bottling. With the exception of the barley, all of the grain is either produced on their farm or is locally sourced. Eventually they want to grow everything on their farm. They use four different varieties of corn, including hopi blue and bloody butcher, each one producing distinctly different results. The bloody butcher corn is also used by Jeptha Creed Distillery and has a more prevalent, distinct corn flavor that really stands out.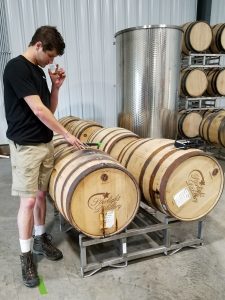 Starlight has been playing around with mash bills to find just the right combination. They have a 3 grain mash that is 55-60% corn, 20-22% barley and 20-22% rye. They also do a 4 grain mash that is 51-53% corn, 20% barley, 20% rye and 7-9% wheat. All of this experimentation is part of their pathway to creating their signature bourbon, which we may not see for a few years. But if the Carl T. Bourbon, named after Ted & Greg Huber's grandfather, is an example of what is coming, we are all in for a treat. All of the bourbon is less than 4 years old so it will be interesting to see how their flavors evolve and change over the next few years.

We ended up sampling eight different barrels that day. Making a final selection was tough because we enjoyed several. We had to narrow down our choice after revisiting the top three. Barrel #1455 became the clear choice. Chris Zaborowski describes it best, "The aromas were filled with pear, citrus and toasty caramel. It was warm on entry with a big fruit flavor, which was supported by a nice, oily texture and a long finish, reminiscent of rye toast. With a splash, it blossomed all the more and the creamy vanilla really lingered." The great news is that you too can enjoy our barrel pick. Bottles are now available at Westport Whiskey & Wine in Westport Village.
Check out Huber's Orchard, Winery and Vineyards website to find additional details about scheduling your own field trip.