When I was younger, I remember my mom getting together with her friends once a month to have "Club". Club was held at our house every few months, and I recall my mom bustling to get the house ready, making scrumptious-looking snacks that we were never allowed to eat and setting up card tables in the living room with special dice to play their favorite game of Bunco. My sister, my brothers and I were all quarantined to our room for the evening and were given a stern warning that we had better behave. I remember dreaming about getting to be part of my own "Club" when I got older.
Now, many years later, my dream has come true and it is SO MUCH better than my Mom's version. We don't play Bunco. In fact, there are no dice or board games in sight. Instead, we drink Bourbon. Welcome to the Bourbon Suppa Club!
Formed two years ago by Terry Howerton, the Bourbon Suppa Club is a group of 8 women who get together once a month to share a bourbon-infused meal, including bourbon cocktails and tastings. The guidelines are simple. Each month there is a rotating hostess. The hostess creates the menu by researching and curating recipes off the internet that have bourbon in them or can be easily modified to incorporate bourbon. The hostess will make the main course and the other members can choose to make 1 of 2 cocktails, an appetizer, a salad, a couple of side items or a dessert from the menu.
When preparing your selection, the focus is on the bourbon, incorporating it into the recipe without overpowering it. I was also informed, when I joined the group, that I should be drinking a cocktail while preparing my selection. A rule that I am happy to comply with.
This month's hostess Sarah W., put together a fabulous menu that included Mint Julep Cucumber Salad, Bourbon Pulled Pork Barbecue with slaw, Bourbon Maple Roasted Baby Carrots and Bourbon Five Spiced Apples. Instead of cocktails, she opted for a bourbon flight that included 1792 Single Barrel, Startlight Distillery Single Barrel, Willett and Bulleit Barrel Strength.
My selection for the evening was the Bourbon Five Spiced Apples. According to Sarah, the recipe she provided was inspired by a five spice pork dish she discovered. I am not one to completely follow recipes. This is my modified version which includes a bit more bourbon than the original. Go figure!
Bourbon Five Spiced Apples
1. In a large pan combine:
-1 stick of butter
-1/4 cup dried cranberries
-2 teaspoons of five spice powder
2. Add 5-6 Large Granny Smith Apples peeled and sliced.
3. Coat the apples with the butter mixture until slightly warm (2-3 minutes on medium heat).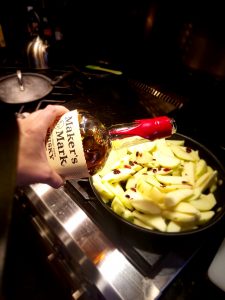 4. Add:
-1/2 cup apple juice
-1/2 cup maple syrup
-2 tablespoons of lemon
-1/4 cup of bourbon
5. Let simmer for a few minutes until the apples begin to soften.
6. Remove apples from the pan leaving the juices behind.
7. Continue to cook juices on medium heat until it begins to cook down and thicken.
8. Add another 1/4 cup of bourbon and light the pan with an open flame cooking off the alcohol, forming a glaze.
9. Pour glaze over top of the apples
Best served warm.